News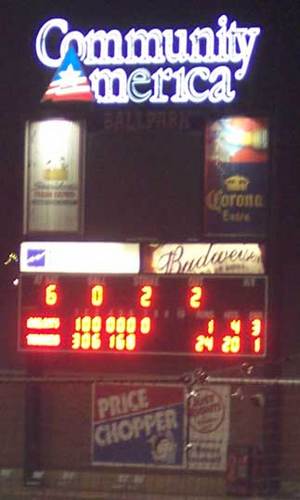 06/10/2006 11:25 PM
- KANSAS CITY, Kan. – If his first two games with the Kansas City T-Bones are any indication, OF
Pat Magness
is happy to be home again. After doubling and driving in a run in his debut Friday night, the Overland Park native had three hits, including his first home run, and drove home four runs Saturday night before a crowd of 6,030 that was treated to a club-record offensive outburst in a 24-1 Kansas City victory over the Gary Southshore RailCats at CommunityAmerica Ballpark.
The two clubs picked up right where they left off Friday night when they combined to score 17 runs on 30 hits in a 9-8 Gary Southshore victory, as the RailCats jumped out to a 1-0 lead in the first. Magness made sure it was a short-lived lead in the bottom half of the inning, blasting a two-out, three-run homer over the right field berm to give the home team a 3-1 advantage.
Kansas City wasn't finished with Gary Southshore starter Josh Habel, battering the left-hander for seven runs on six hits in the third to take a decisive 9-1 lead. Magness was once again a key player in the offensive explosion, doubling to left-center to score
Charles Peterson
for the T-Bones' first run of the frame.
Craig Hurba
followed with a two-run single to center field, and
Chad Sosebee
blew the game wide open with his league-leading third triple of the season, plating Hurba and
Brandon Jones
.
The T-Bones batted around a second time in the fifth, as
Greg Jacobs
and Peterson hit back-to-back homers off Ryan Burnau, and Sosebee doubled home his third and fourth runs of the contest. Still not done, Kansas City posted its biggest inning of the year in the sixth, scoring eight times to extend its advantage to 24-1.
Meanwhile, starting pitcher
Buddy Blair
(1-4) held the RailCats in check for six innings, allowing just one run on three hits to pick up his first victory as a T-Bone. Habel (1-3) took the loss for Gary Southshore, surrendering nine runs on eight hits in three innings.
Peterson led the T-Bones' offensive barrage, posting the club's first five-hit effort of the season (5-for-6) that included two homers and four runs scored. Sosebee drove home five runs on the night, while
Blake Whealy
and Jacobs each had three RBI. The 24 runs scored represent a new T-Bones record and was just three runs shy of the Northern League record for runs in a single game.
The T-Bones and RailCats will battle it Sunday at 5:05 p.m. in the final contest of their three-game series. RHP
Jonathan Krysa
(3-2, 3.90) will get the starting nod for Kansas City, while Gary Southshore will counter with RHP Jason Shelley (2-2, 4.30).
Game Notes: Greg Jacobs
has reached base safely in all 22 games this season and 27 straight contests dating back to August 31, 2005…
Pat Magness
and
Chad Sosebee
became the first T-Bones to drive in at least four runs in a game since Jacobs accomplished the feat vs. Sioux Falls on August 28, 2005…Ryan Burnau allowed 15 runs on 12 hits and threw 122 pitches in 2 1/3 innings of relief…
Charles Peterson's
five-hit effort was the first for a T-Bone since Jacobs' five-hit effort vs. Joliet on August 7 of last year; he also extended his hitting streak to 12 games.