News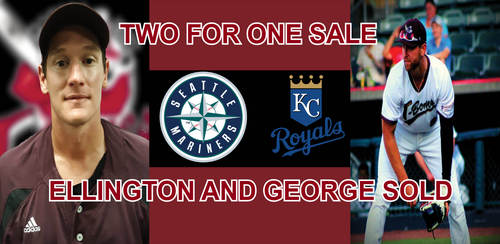 07/31/2019 3:03 PM
-
July 31, 2019
KANSAS CITY – Kan. – The Kansas City T-Bones announced today that the contract of right-handed pitcher Brian Ellington has been purchased by the Seattle Mariners, and infielder/outfielder Jordan George has had his contract purchased by the Kansas City Royals. It is the second time this season a pair of T-Bones contracts have been sold on the same day. On June 1st, LHP Eric Stout (Cincinnati) and RHP John Lenik (Boston) had their contracts purchased on the same day.
Brian Ellington joined the T-Bones on July 2nd and made an immediate impact in the bull pen. The right-handed flame thrower has topped out at triple digits with regularity on the radar gun and had allowed just one earned run in his time with KC. Ellington allowed six hits in 12 games and recorded two holds and a save in his last four outings with the club. He leaves with a 0.60 ERA with 15 strike outs in 15 relief innings. He worked an inning of relief in T-Bones Manager Joe Calfapietra's 1,000th win on July 29th at St. Paul, earning his sixth hold in his final game in a T-Bones jersey. Ellington finished his stay in KCK with 10 straight scoreless innings with one save and a total of six holds.
The native of Gainesville, Florida was the 16th round pick by the Miami Marlins in 2012 out of the University of West Florida and would climb their system, eventually reaching the Big Leagues in 2015, making his debut on August 3, 2015 against the New York Mets. From 2015-2017 he would make 97 appearances in the Major Leagues for the Marlins, posting a 7-4 record with a 4.65 ERA in 102.2 innings with 98 strike outs.
After six years with the Marlins organization, Ellington was released in April of 2018 and signed with the Arizona Diamondbacks as a free agent. He made it as high as Double-A with the D-Backs before being released in July of 2018 and signing as a free agent with the Boston Red Sox in February 2019. He split time earlier in 2019 with the Red Sox AA team in Portland (Eastern League) and AAA Pawtucket (International League) before he was released on June 26. He would have a combined 2-0 record and a 3.32 ERA at both stops for the Red Sox. For his career he is 25-11 with a 3.97 ERA and 442 strike outs over 406 professional innings.
Jordan George joined the T-Bones on July 30th after spending the first part of the 2019 season with the Chicago White Sox high A club at Winston-Salem (Carolina League). He would hit .213 in 48 games with the Dash with three home runs and 19 RBI. George hails from Blytheville, Arkansas and was a standout at Arkansas State University. He was 35th round pick by the Pittsburgh Pirates in the 2015 draft and would spend parts of four season with the Bucs organization.
George began his career with rookie level Bristol in 2015 and would reach AA Altoona in 2018. With the Curve he would play a career high 110 games in 2018 hitting .263 with five home runs and 43 RBI. Overall in five seasons he has a career .282 average with 20 homers and 170 RBI in 343 minor league games. George appeared in one game with Kansas City, going two-for-five on July 30th in the T-Bones 8-6 loss to Sioux Falls.
The T-Bones continue their series tonight against the Sioux Falls Canaries at 7:05 p.m. at JustBats Field at T-Bones Stadium. Hear all the action on the T-Bones Broadcast Network.
Tickets to all T-Bones home games are on sale now online or by calling (913) 328-5618 or by visiting the Saint Luke's Box Office between the hours of 10 a.m. - 4 p.m. Monday through Friday.
Group ticket sales are also on sale now. For additional information or interview requests, members of the media may contact the T-Bones Media Relations Department at (817) 739-3693. Stay tuned to www.tbonesbaseball.com. and the T-Bones Facebook and Twitter pages for updates throughout the season.