News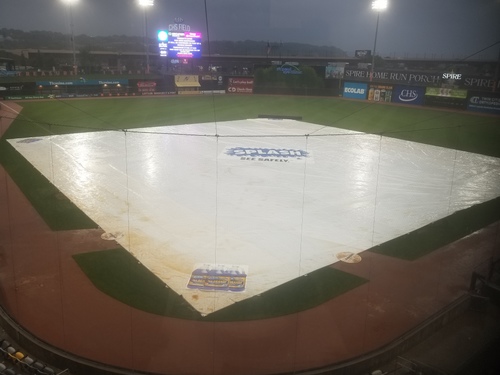 07/28/2019 7:07 PM
-
ST. PAUL, MN. – The Kansas City T-Bones and the St. Paul Saints already had to wait out an hour and a half for a late start owing to rain, but they were able to get the second game of the three-game series started. It was the second delay that was no charm as the team's contest was eventually suspended because of another wave of rain that covered most of the Twin Cities Sunday evening.
The teams began play at 6:40 p.m., and after the T-Bones worked two walks with two outs off of Saints starter Eddie Medina, St. Paul struck like a bolt of lightning in the home half of the first. Henry Owens retired the first two batters he faced then walked Brady Shoemaker. Josh Allen then hit a home run that just cleared the wall in left to make it 2-0 St. Paul.
KC got a runner on base when Medina hit Tyler Marincov with a pitch with one out in the top of the second, but he could not cash in on the free base. At the inning break, it was a flash back to earlier in the T-Bones' season as the skies opened up, eventually forcing the game to be suspended until Monday.
The two teams will resume the second game at 6:05 p.m. Monday, July 29, with a seven-inning game to follow. The first game will go nine innings, and the second will go just seven. Hear all the action on the T-Bones Broadcast Network with Dan Vaughan on the call.
KC will return home on Tuesday, June 30th to face the Sioux Falls Canaries in a three-game series at JustBats Field at T-Bones Stadium.
Tickets to all T-Bones home games can be purchased online by calling (913) 328-5618 or by visiting the Saint Luke's Box Office between the hours of 10 a.m. - 4 p.m. Monday through Friday. Group ticket sales are also on sale now.
#FUNWELLDONE#