News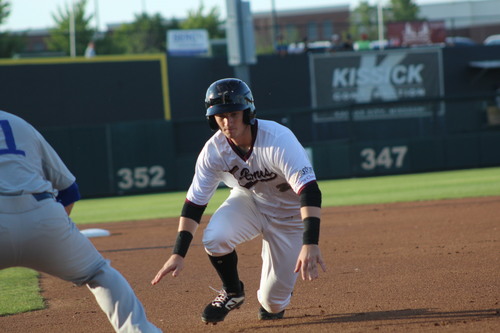 07/11/2019 9:21 PM
-
By Sophie Darting and Gabby Albertson
KANSAS CITY, KS - After losing two games of the series to the St. Paul Saints, the Kansas City T-Bones came out to game three of the series ready to win, and they didn't disappoint, winning 4-3.
This time, the T-Bones made sure to jump on the Saints before they got an opportunity to score. It started in the second inning when Casey Gillaspie and Daniel Nava drew back-to-back walks. Mason Davis then singled to center and drove in Gillaspie. Danny Mars then singled to center to load the bases, and Dylan Tice drew a bases-loaded walk to score Nava and make it a 2-0 T-Bones advantage.
However, the lead didn't last long. St. Paul knocked Kansas City starter Dylan Baker (1-2) around in the top of the fifth inning. The damage started with three straight singles by Matt Morales, Josh Allen and Dan Motl. Motl's single drove in Morales, and after a walk by John Silviano, Jeremy Martinez singled to center field to drive in Josh Allen and tie the ballgame. Baker was then yanked from the game, and Nick Lee (1-1) was brought in and ended the inning with the score knotted 2-2.
Kansas City broke the tie when Gillaspie hit a sacrifice fly to left field, getting out but scoring Tice, making it 3-2 in the bottom of the fifth. Then, in the bottom of the sixth the T-Bones furthered their lead 4-2, with a single to left field by Tice, scoring Roy Morales.
The Saints had a comeback in the top of the eighth when Chesny Young hit a sacrifice fly to right field, getting out but scoring Devon Rodriguez, making it 4-3. It wasn't enough for the Saints to take the lead though; the T-Bones held onto the lead the rest of the game.
Nick Lee (1-1) got the win, and the losing pitcher was Tom Curtin (0-1).
The Kansas City T-Bones will begin their next three-game home series against the Texas Airhogs Friday, July 12th at 7:05pm.