News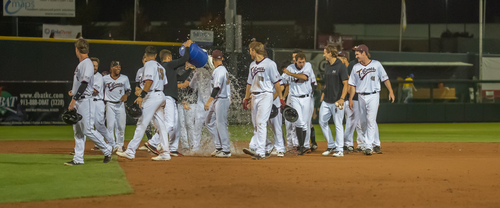 07/03/2019 9:41 PM
-
KANSAS CITY, KS – It took two extra innings, but the Kansas City T-Bones were able to fend off the Sioux Falls Canaries, 2-1, in the eleventh inning on Wednesday night.
The game was quiet at the start, with both pitchers matching each other, pitch for pitch, and keeping their opponents' bats at bay. Kenny Koplove (1-1) was absolutely dealing for Kansas City (22-21), pitching through 6.1 innings and only allowing a run and a hit.
The T-Bones were able to attack Canaries (21-22) starter Keaton Steele (0-5) in the fourth inning. Chris Colabello started the offense when he lined a rocket for a single into right field. Casey Gillaspie followed up with a walk, and Taylor Sparks stepped up to the plate and singled up the middle to drive in Colabello. Kansas City led Sioux Falls, 1-0.
However, the Canaries weren't about to go down without a fight. After Burt Reynolds was hit by a pitch with one out in the seventh inning, Koplove was pulled from the game and replaced by Nick Lee. Josh Rehwaldt singled and Reynolds came around to score the tying run after an RBI-single by Clint Coulter.
The game remained tied and sent the contest into extra innings. It took a combination of dominant relief pitching by Brian Ellington and Marc Magliaro (5-2) and stellar defense around the diamond to keep the score knotted for as long as it took for the T-Bones to score.
Magliaro was awarded the win for Kansas City for his work in the tenth and eleventh innings.
Kansas City had not scored since the fourth inning, but with two outs in the bottom of the 11th frame, Gillaspie stepped up to the plate. He reached on a single and moved to second when Roy Morales took a free pass. Shawn O'Malley came to the dish batting 0-4 on the day. O'Malley made up for his offensive struggles and drove in the winning run in Gillaspie with a single to center field to win it for the T-Bones.
The T-Bones look to win the series against the Canaries on Thursday, July 4 with a first pitch scheduled for 7:05 p.m.