News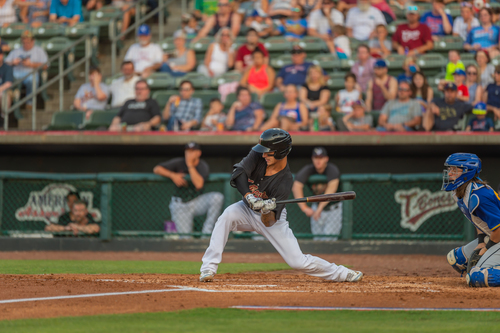 07/03/2018 9:06 PM
-
KANSAS CITY, Kan. – The Kansas City T-Bones (26-16) fizzled as the faced off in the second game of the series against the Sioux Falls Canaries (17-25), in a significant loss, 14-1.
Sioux Falls took an early lead. Maxx Garrett would hit a home run sending him and Chris Grayson home making the score 2-0. In the bottom of the second, an error by Canaries' shortstop Blake Schmit allowed T-Bones' Keith Curcio a chance to get on third. However, a putout by Adrian Nieto left him stranded.
Kansas City showed signs of life their half of the fourth, with a solo home run by Taylor Featherston. This would be the only run the T-Bones would put up in the game.
The Canaries would strike again, decisively this time, in the eighth. A solo home run and then a deep hit into left field would give Dan Motl a double RBI, increasing the lead to 12-1.
The T-Bones' right-handed, starting pitcher, Barrett Astin (5-2), who is credited with the loss, would pitch eight out of nine innings giving up nine runs. Relief would come from Sam Street, Zach Walters and Keith Curcio.
The Canaries' RHP, Jake Esch (1-0), who is credited with the win, would only allow one run in his six innings. Relief was given by Trevor Jaunich and Bo Hellquist.
The T-Bones face off again against the Canaries tomorrow in the final game of the series (1-1). The game will be held at T-Bones Stadium at 7:05 p.m., followed by a 4th of July celebratory fireworks display.
Individual tickets, season, group, mini-plans and nightly party suites are on sale now and can be purchased by visiting the Box Office at T-Bones Stadium or 24/7 at ​www.tbonesbaseball.com​. Box office hours are 10:00 am to 4:00 pm Monday – Friday and 10:00 am to 2:00 pm Saturday. For additional information or interview requests, members of the media may contact the T-Bones Media Relations Department at ​(817) 739-3693​. Stay tuned to www.tbonesbaseball.com and the T-Bones Facebook and Twitter pages for updates throughout the season.