News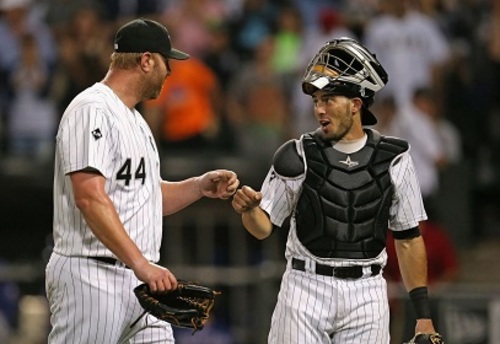 05/04/2018 5:14 PM
-
KANSAS CITY, Kan.– The Kansas City T-Bones announced today that the club has signed switch hitting catcher Adrian Nieto for the 2018 season. Nieto brings 10 years of professional experience to the T-Bones, including 2014 where he played in 48 games in the Big Leagues with the Chicago White Sox. To make room on the roster, the T-Bones have traded RHP Miguel Rosario to the Texas AirHogs in the American Association for a player to be named later.
Adrian Nieto, born in Havana, Cuba and raised in Florida, comes to the T-Bones following a 2017 season where he played 68 games between AA Pensacola and AAA Louisville in the Cincinnati Reds organization. In 41 games at AA, he hit three home runs and drove in 15 runs, hitting at a .250 clip. At AAA Louisville, Nieto played in 27 games and batted .204 with six RBIs.
Nieto was selected in the fifth round of the 2008 Major League Draft out of American Heritage High School in Plantation, Florida by the Washington Nationals. He would see limited action following the draft, playing in eight games going 5-for-23 with the Gulf Coast Rookie League Nationals. In 2009 in 42 games in the GCL, Nieto hit .228 with 17 RBIs and then would make the jump to low A full season Hagerstown in the South Atlantic League in 2010. With the Suns he hit .195 with two homers and 14 RBIs.
In 2011 Nieto made three stops in the Washington system, starting the season at short season Auburn in the New York-Penn League where played in 30 games, hitting .302 with four home runs and 22 RBIs. He would see action in two games that July in the high A Carolina League with Potomac, going 1-for-5 and then finishing the season at Hagerstown where he hit .255 in 27 games with three home runs and 12 RBIs.
Nieto returned to the South Atlantic League in 2012 and hit .257 in 70 games with Hagerstown, including six long balls and 39 RBIs. In a short rehab stint, he played in eight GCL games during July of the 2012 season. His final season with the Nationals organization, Nieto played in a career high 110 games at high A Carolina with Potomac, hitting .285 with a career high 11 home runs and another career high 53 RBIs. He would throw out 33% of runners behind the plate defensively during the season. Nieto added another 13 games in the Arizona Fall League to his resume in 2013, hitting .271 (13-for-48) with six RBIs.
The Chicago White Sox selected Nieto in the 2013 Rule 5 draft as the third pick overall, and he would spend the entire 2014 season with the "big club," serving as the backup to Tyler Flowers. For the season, Nieto hit .236 with two home runs and seven RBIs and was the primary catcher for former T-Bones "ace" Scott Carroll. Nieto was also part of history in 2014 when the White Sox used four Cuban players in the same lineup on multiple occasions. Nieto joined Jose Abreu, Alexei Ramirez and Dayan Viciedo in the lineup— something that no other team had done in 45 years. He would return to the minors in 2015, playing in 81 games at AA Birmingham, hitting .207 for the Barons in the Southern League.
Nieto would be released by Chicago after the 2015 season and ink with the Miami Marlins organization. He spent 37 games at AAA New Orleans and hit .195 with a homer and 19 RBIs in 2016. Nieto has also played parts of two seasons of winter ball, hitting in 2014-2015 and 2017-2018 with Gigantes in the Dominican Republic.
The Cincinnati Reds signed Nieto to a minor league deal on January 2nd, 2017 and released him following the 2017 season. In 2013 Nieto played for the Spanish National Team in the World Baseball Classic and was a teammate of former Cleburne and Joplin Manager Gabe Suarez. Throughout his career behind the plate, Nieto has thrown out 31% of runners attempting to steal (139 CS out of 445 SBA), and he is a career .244 hitter at the plate with 40 home runs and 248 RBIs in 625 games. Nieto closed out his high school career by leading his team the state championship, batting .372 with 16 doubles, five home runs and 38 RBIs. Nieto is the fourth former Big Leaguer on the T-Bones spring roster. He joins RHP Cody Martin, IF Jason Rogers and IF Zach Walters.
Miguel Rosario spent six years with the Pittsburgh Pirates organization where the native of La Vega, Dominican Republic reached AA in 2017. In 27 games in the Eastern League with Altoona, Rosario went 3-1 with a 1.80 ERA in 27 relief appearances and three saves. The right hander would close out the season at High A Bradenton in the Florida State league with a 4.85 ERA in 13 innings.
With the moves today, the T-Bones roster stands at 27. Per American Association rules, Kansas City can carry 28 players into spring training, which is set to begin at T-Bones Stadium Sunday May 6th with the first official work out. The team's first exhibition game against the Lees Summit Monarchs is set for Tuesday May 8th at 7:05 pm at T-Bones Stadium.
Season, group, mini-plans and nightly party suites are on sale now and can be purchased by visiting the Box Office at T-Bones Stadium. Call the Box Office at 913-328-5618 or purchase and print at www.tbonesbaseball.com. Box office hours are 10:00 am to 4:00 pm Monday – Friday and10:00 am to 2:00 pm Saturday. For additional information or interview requests, members of the media may contact the T-Bones Media Relations Department at (817) 739-3693. Stay tuned to www.tbonesbaseball.com. and the T-Bones Facebook and Twitter pages for updates throughout the offseason. Home opening night is May 22 when the T-Bones host Gary SouthShore at T-Bones Stadium at 7:05 pm.
-- T-Bones--