News
05/28/2011 11:18 AM
-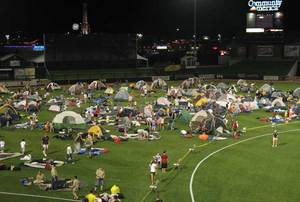 The Kansas City T-Bones have partnered with the Village West Rotary, Wyandotte Homeless Services Coalition, and the Unified Government to host the inaugural Great WyCo Family Camp Out at CommunityAmerica Ballpark on Saturday, July 30.
The Great WyCo Family Camp Out was created as a means to raise money and awareness to benefit the needs of the homeless in the Wyandotte County community. The event is open to the public, and portions of the registration price will go directly to the Wyandotte Homeless Services Coalition.
"We are excited to partner with these great organizations in an effort to assist those of need in our community," T-Bones President Adam Ehlert said. "CommunityAmerica Ballpark has proven to be an exceptional location for similar events in the past; and will offer a fun, friendly environment for this event."
Prior to the campout, the T-Bones will face off against their newest rival, the Wichita Wingnuts, in a 7:05 p.m. contest. After the game, campers will be led down to the field to begin setting up their camping equipment. The WHSC will be on hand during the game to provide information about their mission.
Since 2003, the T-Bones have hosted numerous scout nights/campouts at CommunityAmerica Ballpark, welcoming approximately 15,000 individuals in that span. With the addition of this event, the T-Bones will host five such camping experiences in 2011.
"It is good to see that our Wyandotte Homeless Coalition is partnering with the T-Bones and Village West Rotary Club to assist those members of our community that are in need of shelter," Kansas City, KS Mayor Joe Reardon said. "The Great WyCo Family Camp Out at CommunityAmerica Ballpark looks like a fun, family event which will also raise needed funds for the homeless. The event deserves community support."
To learn more about how you can participate in this exciting event, contact the T-Bones box office at 913-328-5618!