News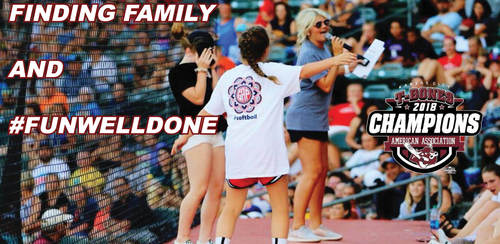 07/15/2019 2:27 PM
-
By Gabby Albertson
Who exactly is Morgan Kolenda? Well, she is the person who emcees the games and who walks about the concourse, organizing all the #FunWellDone, but her official title at the Kansas City T-Bones is the Director of Marketing and Promotions. She handles the on-field entertainment, organizes the event productions, lines up the anthem performers, sorts out the ceremonial first pitches, coordinates baseball buddies, handles pregame parades, and does so much more. But, how did she get here?
According to Morgan, "I was basically picked up at Target. I was picking out stuff in the dollar aisle, and a lady came up to me who worked in the T-Bones' team store. At the time the team had a store at the Legends that was like a pop-up shop. She said that I looked like someone who could sell novelty items. And I said "okay." When the woman said she worked for the T-Bones, I said "is that like a restaurant?" I had just moved to KC, and I had no idea about the team. The woman informed me that the T-Bones were a local professional baseball team. Would you believe that at first I said that I hated baseball? But as you can guess, that has definitely changed, and the rest is basically history."
Morgan started out as a Sales Associate for the T-Bones store, and then two years later, the store moved to the T-Bones ballpark, and she began managing merchandise. From there she started to really love baseball and the atmosphere of the ballpark. In 2014, she got asked by Chris Browne, Vice-President and General Manager, to be an on-field emcee, and in 2016 her duties expanded, and she was named Director of Merchandising and Promotions. She is the person who makes the games fun...well done. She's the one who plans all the activities and pumps up the crowd.
So, what is a typical day like for the marvel that is Morgan? "I wake up and I come here, and I spend my entire day here—literally," Morgan said. She added that "The first thing I do in the morning is I meet with our group sales guys, and after that, I meet with our VP and General Manager, Chris Browne to go over what the night is going to entail. From there, I have my schedule set, and I sit in my office and map out everything into a detailed script. Once it's set, I print it and I give it to our production crew. I also email it to the PA guy so he has a feel for what's going on. I make sure he's not blindsided by things."
But that's not all. Before the games, Morgan also makes sure the promotions table is setup and everything is taken care of in fan services. After that, she checks on Sizzle and makes sure he is taken care of in terms of his costume, assuring he's ready to go.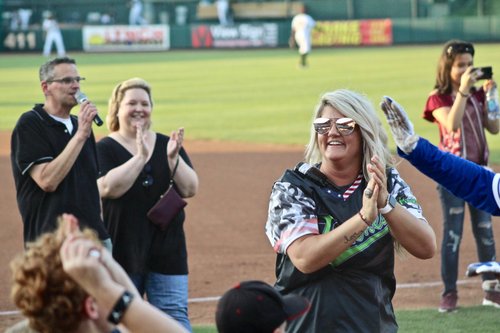 By the time 5:00 p.m. rolls around, she checks in with her interns: "I always do a pregame meeting with my staff, sitting them down and walking them through what's going on that night and discussing what we can do better than we did the night before because my goal is to make sure that every game is better than the last." She adds, "our goal is to make sure that every fan that walks through the gates at T-Bones Stadium come back."
After meeting with her interns, it's game time, and she runs around like a chicken with her head cut off, seeing if anyone needs anything.
A lot goes into planning a baseball game, and honestly none of this would be possible if it weren't for Morgan. Like she says, "we're selling an experience; we're not just selling baseball; we're selling the whole package."
When the team is on the road, Morgan doesn't rest. She helps with social media, plans ahead for upcoming promotions, and helps Dan Vaughan, The Voice of the T-Bones and Senior Director of Broadcasting and Media, by taping spots for the radio broadcast, advertising what's coming up in the next home stand. Morgan even sometimes fills in for anthem singers who back out at the last minute for various reasons. She can really do it all!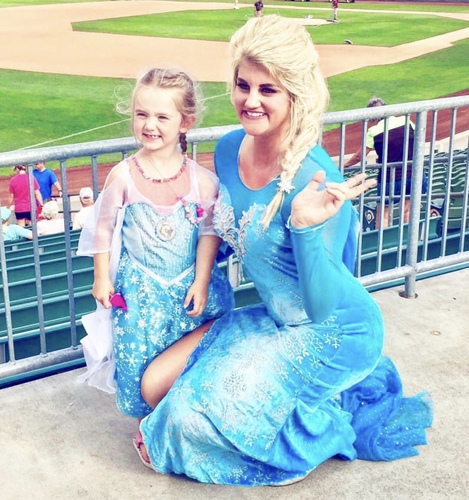 When working a job like Morgan's, the people you work with become family because you spend all your time with them. She says, "I love coming here every day because I work at a really fun place. The people are fun, my co-workers are incredible, and the visiting broadcasters think I'm hilarious. It makes me feel like it's important to be here, to get to make it fun for other people."
Clearly Morgan is a hard-worker, but most importantly she loves her T-Bones family, the fans, and everything that baseball has to offer. She clearly got a whole lot more than she bargained for that day at Target!