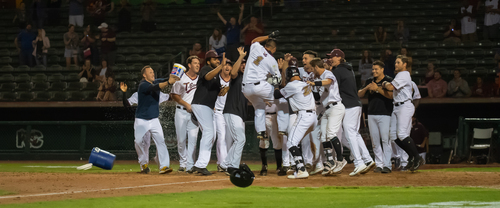 08/23/2019 10:39 PM
-
Kansas City, Kan.– The Kansas City T-Bones (51-39) walk off the Lincoln Saltdogs (37-54) 7-4 in eleven innings to keep the T-Bones neck and neck with the Sioux City Explorers in second place in the southern division.
Omar Carrizales came up big in the eleventh inning to break the 4-4 tie and to seal the series sweep. A big three-run homerun to left field would seal the deal, scoring not only Carrizales, but Casey Gillaspie and Danny Mars. Carrizales went two-for-five on the day with a walk and a strikeout being one of four who had two hit games against the Saltdogs.
The T-Bones started with a 1-0 lead over Lincoln with a balk from starting pitcher Brad Thoutt to score Stewart Ijames from third. Things got dicey in the fourth inning with two runs scored to answer the lone T-Bones run in the bottom of the third. Lincoln scored again in the fifth with a RBI single to center by Forrestt Allday to score Ivan Marin. Kansas City had two runs of their own to make it a tied game at three apiece. The T-Bones took no time in taking the lead with a wild pitch advancing Chris Colabello to third, then a RBI single for Christian Correa. Lincoln tied the game at four in the top of the eighth, and both teams would go scoreless until Carrizales put the game away with the three-run homerun in the eleventh.
Henry Owens (4-2) gets the win, pitching all three-extra innings with only a walk and five strikeouts to his name. Jon Perrin will be credited with another quality start for the T-Bones rotation, going 6.1 innings, seven hits, three runs, three earned, and ten strikeouts.
The T-Bones will travel to Sioux City, Iowa again in a must-win series to settle the tie for second place in the southern division of the American Association. Cleburne now falls in the race with only a game and a half ahead of the T-Bones and the Explorers.
For additional information or interview requests, members of the media may contact the T-Bones Media Relations Department at (817) 739-3693. Stay tuned to www.tbonesbaseball.com. and the T-Bones Facebook and Twitter pages for updates throughout the season.
--T-Bones--