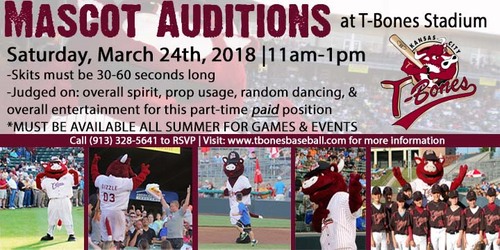 02/06/2018 11:35 AM
-
Wanna take the bull by the horns….literally? We're looking for our next Sizzle the Bull!! Interested participants need to be highly energetic, fun, good with working large crowds, and available throughout the entire summer (May-September) along with additional scheduled Sizzle appearances.
All audition participants must have a pre-prepared individual skit ready for performance at auditions. Skits must be performed singularly and may not be performed in pairs or groups of mascots. Skits will be performed in a suit. Skits should highlight your creative ability and personality while still maintaining the character of the costume and the T-Bones. Music must be provided by the participant as either a CD or mp3 file. Skit must be between 30-60 seconds and appropriate for any Kansas City T-Bones event and/or game. For ideas, there are various videos online of skits from other teams' mascots.
During the audition process, participants will be judged on: overall spirit, prop usage, random dancing, improvisation, and personality.
Auditions will take place on Saturday, March 24, 2018 at the T-Bones Stadium located at 1800 Village West Parkway in Kansas City, KS from 11am to 1pm.
Those interested in the position must RSVP to Morgan Kolenda, Director of Promotions & Game Entertainment at (913) 328-5641 or by email at mkolenda@tbonesbaseball.com
*This position is a part-time paid position*