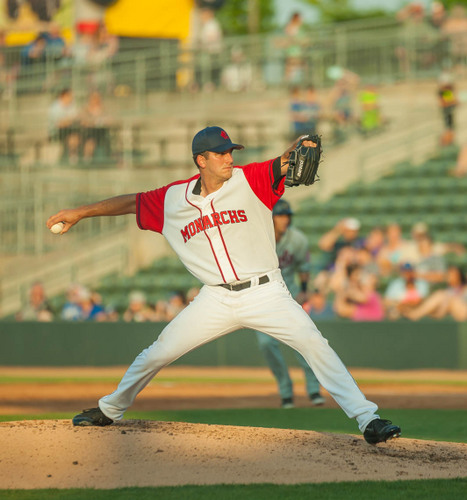 06/10/2016 9:05 PM
-
KANSAS CITY, Kan. – The Kansas City T-Bones got a timely home run and solid pitching as they beat the Joplin Blasters, 4-2, on Friday night in front of 5,019 at CommunityAmerica Ballpark.
With the T-Bones leading 1-0 in the third, Tyler Massey led off the inning with a single to left field. After he reached third on a one-out single by Jake Blackwood, Massey scored on a fielder's choice by Steve Swingle. On that play, after Joplin got Blackwood out at second, Swingle beat out the throw to first, extending the inning. The next batter, Brandon Tierney, hit his first home run as a T-Bone, giving Kansas City a 4-0 lead.
Joplin closed in on Kansas City's lead in the sixth. The inning started out with Geraldo Valentin's base hit to left field off Kansas City starter David Holman. He quickly moved to third as Charlie Valerio singled, but an error by T-Bones right fielder Starlin Rodriguez allowed Valentin to go to third. Willie Cabrera gave the Blasters three consecutive singles in the inning as well as Joplin's first run, as Valentin came in and made it a 4-1 game. After Will Soto grounded into a double play that moved Valerio to third, Joplin cut Kansas City's lead in half at 4-2 with a double by Oscar Mesa.
Holman (2-1) went 5 2/3 innings for the T-Bones, scattering nine hits but allowing only the two runs. The Kansas City bullpen shut down the Blasters in the final 3 1/3. Mark Haynes picked up his second save as he allowed one hit and struck out one in the final 1 1/3 innings.
Kansas City, which snapped a three-game losing streak, started out strong in the bottom of the first inning against Joplin starter Josh Hodges (2-2). After Vladimir Frias tripled with one out, Massey sent him home on a grounder to second baseman Mitch Glasser, giving Kansas City a 1-0 lead.
The T-Bones (9-13) will continue to play host to the Blasters (8-13) on Saturday night at 7:05. Tickets are available by calling the Providence Medical Center Box Office at CommunityAmerica Ballpark at 913-328-5618.