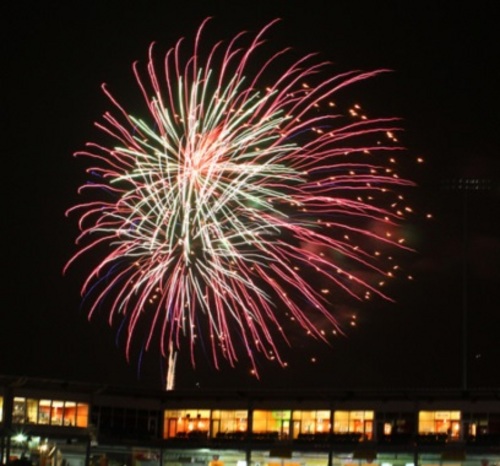 02/29/2016 4:37 PM
-
KANSAS CITY, Kan. – As the Kansas City T-Bones prepare for the 2016 season, which begins on May 19, the club has announced its early promotions and events schedule for 2016.

"This is a fun time of the year as we are basically two-and-a-half months away from the season opener, and we get to unwrap some of the presents our promotional staff has been working on all winter," said T-Bones vice-president and general manager Chris Browne. "You'll see we have some fun new nights planned, and a few more tricks up our sleeve that fans will see in the coming weeks."

For 2016, nightly promotions and ways to save on tickets have returned, along with several giveaways and special guests.

"My goal is to reach every fan in some way," said Morgan Kolenda, the T-Bones' new director of promotions/marketing. "We have such a wide variety of people who are in love with the game, so I want them to certainly enjoy a great game of baseball, but also to enjoy the events we have in store for them on whatever game they attend…which hopefully is all of them!"

SPECIAL GIVEAWAYS
T-Bones T-Shirts: As of right now, the T-Bones have four T-shirt giveaways, with one on Opening Day, Thursday, May 19, against Texas, for the first 2,000 fans, sponsored by CommunityAmerica Credit Union; and then three "T-Shirt Tuesdays" on June 7, June 21, and Aug. 23.

T-Bones Jersey: The ever-popular T-Bones jersey giveaway is Tuesday, July 26, for the first 1,500 adults, against Gary SouthShore.

Drawstring Bag: The first 1,500 fans on Sunday, Aug. 14, against Laredo, will receive a drawstring bag.

SPECIAL APPEARANCES
Bachelor in Paradise Contestants: On Thursday, July 7, Bachelor in Paradise contestants Tanner and Jade Tolbert, will be at CommunityAmerica Ballpark for the 7:05 p.m. game against Sioux City.

Midget Wrestling: There will be midget wrestling on the field following the Thursday, Aug. 11 game against Laredo.

SPECIAL EVENTS
Meet the T-Bones: Fans of all ages can get autographs and photographs with the T-Bones players following the Friday, May 20 game against Texas.

Negro Leagues Baseball Night: On Friday, June 10, the T-Bones and the Joplin Blasters will celebrate the great history of baseball in Kansas City with a throwback game featuring the KC Monarchs against the Joplin Night Owls. Both teams will wear replica uniforms, sponsored by Charlie Hustle, based on the originals worn by their respective teams. Each uniform will then be auctioned following the game to benefit the Negro Leagues Baseball Museum.

Frank White Youth Pre-Game Baseball Clinic: Fans from the ages of 6-15 can participate in a one-hour pre-game baseball clinic conducted by Royals Hall of Fame player Frank White, from 11:30 a.m. until 12:30 p.m., on Sunday, June 12, before the T-Bones take on Joplin at 1:05.

Wyandotte County Appreciation Day: On Sunday, June 26, against Fargo-Moorhead, Wyandotte County residents will be able to purchase select seats for $5 each.

Sunday Brunch Club: Before one Sunday game a month (June 26, July 24, Aug. 21), fans can purchase a ticket to have brunch in a suite and sit in on a roundtable discussion with select T-Bones broadcasters, players, coaches and management. And then fans can stay in the luxury suite for the game!

50-cent Hot Dogs: In honor of National Hot Dog Week, the T-Bones will be offering hot dogs for $.50, sponsored by Wimmers, on Wednesday, July 27. Following the 7:05 p.m. game against Gary SouthShore, fans are encouraged to stick around for the T-Bones third annual hot dog eating contest.

NIGHTLY PROMOTIONS
Although the team will announce its full list of nightly promotions soon, here are a few highlights:

Thursday: "Throwdown Thursday" with $1.25 beers.

Friday: Buck Nights. Hot dogs will be $1 with the purchase of a drink.

Saturday: Post-game Fireworks by CommunityAmerica Credit Union.

"Overall, we have a great season ahead of us," Kolenda added, "filled with lots of fun…well done!"

All of the above promotions, dates and giveaways are subject to change. More great promotions and events are being developed, and will be announced soon. The current complete promotions list can be seen by clicking here.

Full and half-season ticket packages, and group ticket packages, are on sale now. Single-game tickets will go on sale to Wyandotte County residents on March 22, 2016, and to the general public on March 24. Parking for T-Bones games will remain free in 2016. For more information or to secure your season tickets, call 913-328-5618 or visit the Providence Medical Center Box Office at CommunityAmerica Ballpark.