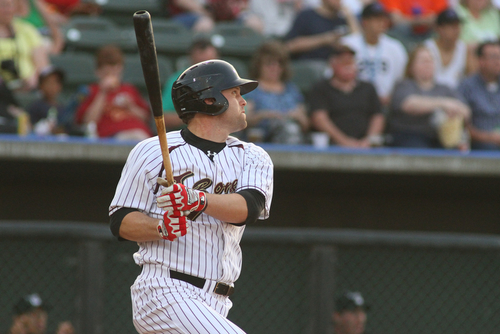 07/03/2013 9:56 PM
-
Five runs in the sixth and seventh innings from the Kansas City T-Bones cut down a sizeable Sioux Falls lead, but in the end the Canaries held on for a 9-6 win before 5,553 at CommunityAmerica Ballpark on Wednesday night.
Matt Padgett further established himself as the T-Bones' most dangerous hitter, smacking two opposite-field home runs to left in the second and seventh innings. In addition to leading the team in average, Padgett is tied for the club lead in home runs (12) and holds the outright lead in RBIs (37), total bases (106), walks (33), and doubles (17).
In just his second start in the rotation, Dustin Loggins (1-2) entered the game with an ERA of 1.60 at home, but allowed eight runs on 12 hits over five innings.
"As Loggins is making the transition to starter, he's been working on developing his third pitch," said T-Bones manager Kenny Hook. "What we saw tonight was someone struggling to get the third pitch over for a strike."
Sioux Falls starter and league strikeout leader Ben Moore (5-3) added six more to his season tally (61) and earned the win after 6 1/3 innings.
The T-Bones and Canaries are scheduled to play game three of the four-game series on Thursday night at 7:05. Tickets are available by calling the Providence Medical Center Box Office at CommunityAmerica Ballpark at 913-328-5618.