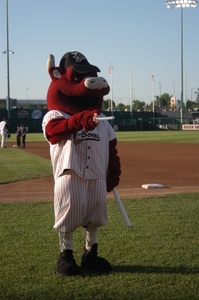 SIZZLE THE BULL
Sizzle the Bull is a fan favorite in Kansas City, and he's available to appear at your church, school, or company event! His calendar fills up fast, however so schedule your appearance today.
To book Sizzle contact Morgan Kolenda at (913) 328-5641 or mkolenda@tbonesbaseball.com
MEET SIZZLE THE BULL
Bats: Right
Throws: Right
Favorite Player: Former St. Paul Saint Leon "Bull" Durham
Favorite Movie: "Bull Durham"
Favorite Boxer: Jake LaMotta
Favorite Food: Pizza (hey, why not?)
Famous Relatives: Rocky the Bull Mascot (U. of South Florida), Victor E. Bull (U. of Buffalo).